NORTH AMERICA'S LARGEST SOCIAL POKER EVENT
THE BAR POKER OPEN CHAMPIONSHIP
Bar Poker Open has a simple concept, provide a Championship Event and Poker Series geared for the Social Poker Player. We've made history by offering the largest Bar Poker Championship event in the U.S. and we're just getting started. Join us at any SUIT UP POKER LEAGUE event and you've taken the first step towards having fun, playing poker, and winning prizes!
Anticipated $400,000 NATIONAL CHAMPIONSHIP
Las Vegas, Nevada, June 11-16, 2023
JOIN SUPL IN VEGAS THIS YEAR!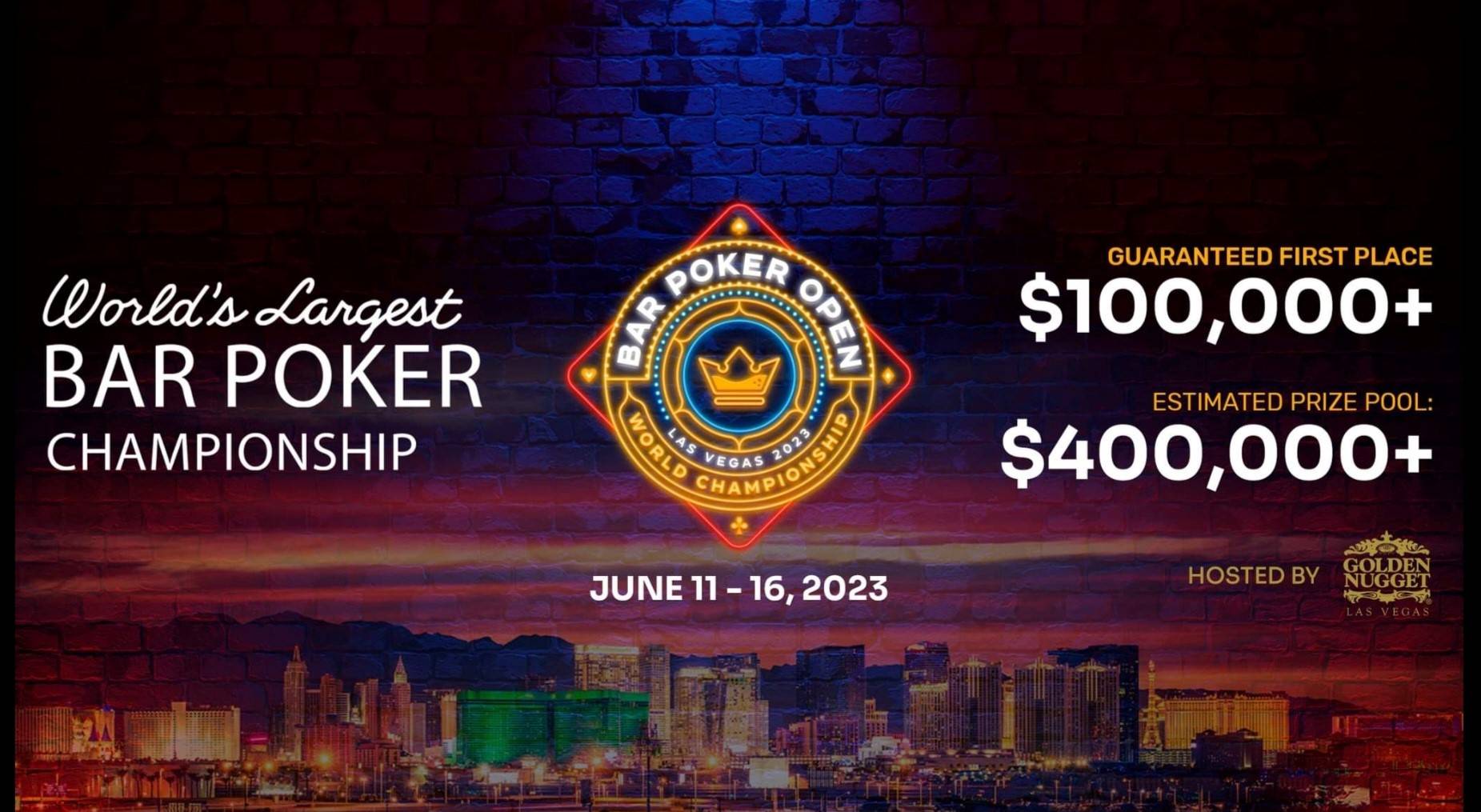 BAR POKER OPEN DIRECT QUALIFYING
-PLAY ANY SUIT UP POKER TOURNAMENT
-FINISH TOP 3 AND WIN ONE TOKEN
-PROVIDE A VALID AND ACTIVE EMAIL ADDRESS
-RECEIVE EMAIL INVITATION AND ACTIVATE ACCOUNT
-PLAY IN OUR CUSTOM ONLINE POKER SITE
-COMPETE IN STEP 2 TOURNAMENT
-FINISH TOP 10 AND CLAIM YOUR CHAMPIONSHIP SEAT. SEATS ARE AWARDED EACH WEEK BASED ON ATTENDANCE. 10 SEATS ARE GUARANTEED WEEKLY, BUT OVER 20 SEATS COULD BE GIVEN AWAY IN ANY WEEK!
BONUS- WIN 1ST PLACE ONLINE AND EARN A FULL CHAMPIONSHIP TRAVEL AND STAY PACKAGE TO THE NEXT LAS VEGAS NATIONAL CHAMPIONSHIP
TOKENS DO NOT EXPIRE. A UNIQUE EMAIL ADDRESS IS REQUIRED FOR EACH PLAYER. YOUR EMAIL ADDRESS IS USED AS YOUR LOGIN TO BARPOKEROPEN.COM. BE SURE TO READ ANY PROMOTIONAL DETAILS ON BARPOKEROPEN.COM IN REGARDS TO THE CURRENT CHAMPIONSHIP QUALIFYING RULES. TOKENS ARE NOT TRANSFERABLE TO OTHER PLAYERS. SEATS WON ARE NOT TRANSFERABLE TO OTHER PROMOTIONS UNLESS PREVIOUSLY ADVERTISED.
BAR POKEN OPEN
SUPER LEAGUE
THE BAR POKER OPEN SUPER LEAGUE PUTS THE TOP PLAYERS FROM EACH LEAGUE AGAINST ONE ANOTHER IN OUR INTER-LEAGUE ONLINE CHAMPIONSHIP FINAL.
QUALIFY AND COMPETE TO WIN CHAMPIONSHIP SEATS AND FULL CHAMPIONSHIP TRAVEL AND STAY PACKAGES!
CURRENT SEASON 13 QUALIFYING 10/10/22-04/26/23
-PLAY ANY BPO DIRECT QUALIFYING VENUE
-FINISH TOP 20% AND EARN SUPER LEAGUE POINTS
-VIEW THE SUPER LEAGUE LEADERBOARD FOR OUR LEAGUE AND TRACK YOUR RANKINGS.
SEASON FINAL: 04/29/23 4:00 PM
- VIEW THE LEADER BOARD TO SEE THE PROJECTED NUMBER OF PLAYERS WHO WILL EARN AN INVITATION TO THE ONLINE FINAL
-A SELECT GROUP OF TOP RANKED PLAYERS WILL ALSO WIN A BONUS ADD-ON OR RE-ENTRY INTO THE ONLINE FINAL
BONUS REWARD: WE UNDERSTAND THAT EVERYONE WHO WANTS TO WIN A SEAT WILL NOT BE ABLE TO DO SO. THEREFORE, THE BPO IS ABLE TO OFFER A TOP PERCENTAGE OF SUIT UP POKER LEAGUES LEADER BOARD AN 'INVITATION' TO THE BPO NATIONAL CHAMPIONSHIP. THESE PLAYERS ARE PERMITTED TO COMPETE IN THE CHAMPIONSHIP DAY 1A BY PAYING THE FULL COST OF THE SEAT AND DEALER FEE ON THEIR OWN. VIEW THE RANKINGS FOR HOW MANY PLAYERS EARN AN INVITATION.